The Wenatchee Wild head into the holiday break on a 5-game winning streak after sweeping Merritt last weekend. We chatted with the interim radio "voice" of the Wild, Sean Zears, earlier today on Wake Up Wenatchee Valley. He says what is helping the Wild right now is that they're finally healthy…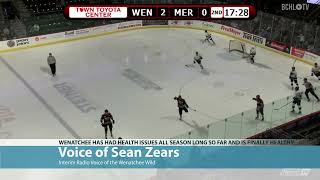 Friday's 6-2 win for Wenatchee was insane with the Wild taking 71-shots on goal. Zears says it's something he's never seen before…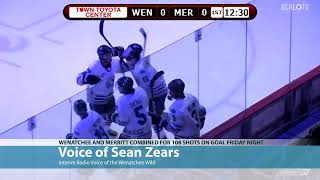 You can see our entire conversation with Sean on our website. Click the full episodes tab and click on Wake Up Wenatchee Valley.
The Wild are off until next Thursday when they'll host the Prince George Spruce Kings at the Town Toyota Center to wrap up the year.
Gonzaga is ranked 4th as they down Norther Arizona
Gonzaga not only jumped to No. 4 in the latest men's college basketball poll Monday, they also jumped all over Northern Arizona…
Chet Holmgren scored 20-points to lead Gonzaga to the 95-49 victory. Highlights courtesy of Gonzaga Athletics…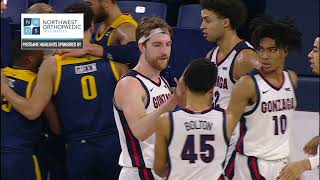 Coming up tonight, Washington hosts Utah Valley at 6 o'clock on the Pac-12 Network.
Husky women down Nevada 58-42
In women's college basketball Monday…
Haley Van Dike scored 20-points to lead Washington over Nevada 58-42. Nancy Mulkey also kicked in 10-points for the Huskies.
On the women's schedule today, Gonzaga plays at Eastern Washington at 6 o'clock on ESPN-plus.
GESA Winter Shootout Scores and Schedule
Here's the Les Schwab Boys Basketball Scoreboard from the GESA Winter Shootout on Monday…
Brody Phillips had 21-points, but it wasn't enough for Eisenhower as the Cadets fell to mead 71-41. Kevin Flores led five players in double-figures with 17 for Prosser as the Mustangs edged Eastmont 76-73. Moses Lake beat Wenatchee to win its 3rd straight, 58-49.
Coming up today, it's Moses Lake and Prosser at Wenatchee High at 6. Eastmont takes on Eisenhower at 7:30.
On the GESA Winter Shootout for the girls Monday…
Prosser demolished Wenatchee 61-17 and Hanford got by Eastmont 68-44.
Coming up today, it's Kennewick at Wenatchee at 6 at Wenatchee High while Eastmont hosts Prosser, also at 6.
In other girls basketball tonight…
Chelan travels to Omak at 5:45 while Cashmere hosts Cascade. Brewster tips at Quincy at 6. That's the same start time for Cascade Christian at Pateros; Okanogan at Warden; and Waterville-Mansfield at Moses Lake Christian.
On the boys schedule, Bridgeport plays at Riverside Christian at 5. Cascade visits Cashmere at 7:15 while Omak hosts Chelan. The 7:30 games have Brewster at Quincy; Pateros hosts Cascade Christian; Okanogan visits Warden; and Waterville-Mansfield travels to Moses Lake Christian.
Seahawks still unsure of COVID status for players tonight
Seattle and Los Angeles are still battling COVID among players as they prepare to meet this afternoon at SoFi Stadium…
Tyler Lockett and Alex Collins must test negative twice before they'll be allowed to play today for the Seahawks. In addition, starting cornerback D.J. Reed, offensive tackle Brandon Shell, and defensive tackle Brian Mone (mow-NAY) tested positive.
Los Angeles had as many as 29-players test positive for COVID last week. They've been able to return 11-players as of Monday.
Kickoff is set for 4 o'clock on FOX.