The Wenatchee Panthers are the District 6 volleyball champions after sweeping Eastmont Saturday at Wenatchee High School…
The final scores were 25-16, 22 and 16. Panther coach Marni McMahon was thrilled with how her girls performed…
Eastmont tried to bounce back for a last chance at State, but fell in three sets to West Valley 25-18, 22, and 20 to have their season come to an end.
Turning to the crossover games for our local Caribou Trail League teams, Chelan advanced to the State 1A Tournament with a sweep of Colville Saturday while Cashmere fell in straight-sets to Lakeside (Nine Mile Falls).
The Goats will face King's Way Christian in the first round of the State 1A Tournament at the SunDome Friday at 3:15 in the afternoon.
Manson is the District Champions for the 2-B's with a sweep of Okanogan in the title match Saturday at Chelan High School. Lake Roosevelt ended Brewster's season and then gave Okanogan all it could handle for a last chance at state, but the Bulldogs prevailed 3-2.
Manson faces Tri-Cities Prep in the first round of the State Tournament Thursday at 9:45 in the morning. Okanogan's first-round opponent is Toutle Lake with the match starting at 11:45.
Waterville-Mansfield is the District 1B Champs after sweeping Pateros Saturday. Wilson Creek ended Entiat's season 3-2 before Pateros advanced to State with a 3-2 win.
Pateros has an early, play-in game for the State 1B Tournament Thursday at 8am against Shoreline Christian. Waterville-Mansfield will face Neah Bay in its first-round match at 1:30.
Eastmont soccer advances to State Tournament
The Eastmont Wildcats are headed to the State 4A Girls Soccer Tournament after a narrow win Saturday…
The Wildcats edged Moses Lake 4-3 to advance to the tournament…
Eastmont received an 11th seed to the tournament and will face Issaquah tomorrow night on the road at 7 o'clock.
Cashmere and Cascade had their soccer season ended in crossover games Saturday. The Bulldogs fell at home to Lakeside (Nine Mile Falls) 2-to-1. The Kodiaks fell on the road to Freeman 4-to-2.
Okanogan is the District 6 1B/2B soccer champions after blanking Tonasket Saturday in the Apple Bowl 5-nothing.
Tonasket will face Saint George's in a first-round game with the day and time to be announced. Okanogan awaits the winner of Cle Elum-Roslyn and Adna later this week.
Chiefs end football season with win over Wenatchee
The Moses Lake Chiefs completed an undefeated Big-9 regular season with a 30-to-13 win over Wenatchee Friday night in the Apple Bowl…
Wenatchee made it a pretty close game for three quarters, but penalties and turnovers proved costly for the home squad. Eric Granstrom and Paul Collard had the call here on the NCWLIFE Channel…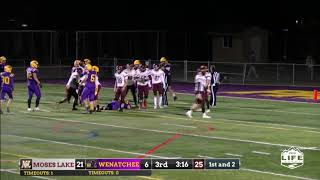 Eastmont received a 15th seed into the State 4A Tournament and will travel to #2 Eastlake Friday at 7 o'clock. Moses Lake, an 11-seed, will travel to play at #6-seed Gonzaga Prep Friday, also at 7.
The Season came to an end for all Caribou Trail League teams except Omak Friday. The Pioneers edged Newport 33-28 to advance to the State 1A Tournament. Cashmere fell to Lakeside (Nine Mile Falls) 28-to-8. Freeman crushed Cascade and Riverside clobbered Chelan. Deer Park dispatched Quincy Saturday 50-to-16.
Omak received a 13th seed to the state tournament and will travel to Lakeside (Nine Mile Falls) Friday at 7pm.
Brewster advanced to the State 2B Tournament with a 41-6 win over Liberty Friday. Soap Lake topped Bridgeport 70-to-50. On Saturday, Okanogan remained unbeaten with a 59-nothing win over Northwest Christian. Lind-Ritzville beat Manson 41-nothing and Waterville-Mansfield was a 54-6 winner of Entiat…
Brewster will face Columbia Burbank on the road in its first-round State game Friday at 6 o'clock. Okanogan will wait two weeks for the winner of Brewster and Columbia-Burbank.
Liberty Bell has a first-round State 1B playoff game at home against Cusick Saturday at Noon. Waterville-Mansfield will travel to Naselle Saturday at 1 o'clock.
College football scoreboard
Turning to the Les Schwab College Football Scoreboard…
Washington gave up a 9-3 early lead and fell to Oregon Saturday 26-16 at Husky Stadium. The Ducks were led by Travis Dye's 211-yards rushing and two touchdowns. Washington had 6, 3-and-outs on offense and didn't generate a single first down in the first quarter.
Montana State's Isaiah Ifanse rushed for 217-yards and a touchdown as the Bobcats knocked off Eastern Washington 23-20. Montana State's defense held Eagle quarterback Eric Barriere to 214-yards and two scores through the air and only 17-yards rushing.
Quincy Glasper threw for 442-yards and 5-touchdowns to lead Central Washington over Western New Mexico 54-29.
Wild earn first and second wins of BCHL season
The Wenatchee Wild not only won their first game of the season over the weekend, they swept the Vernon Vipers…
On Friday, Wenatchee's Cade Stibbe scored just 26-seconds into overtime to give Wenatchee a 3-2 win. It was the Wild's first victory in 7-tries and also the first win since Chris Clark was named head coach in 2020. He carried the "interim" title for the remainder of the 2019 season.
Quinn Emerson and Owen Bohn also scored in the win for Wenatchee wild goalie Tyler Shea stopped 28-of-30 shots.
On Saturday, Wenatchee was 3-for-4 on power play opportunities in downing Vernon 4-to-1. The Vipers scored first but Wenatchee countered on Landon Parker's redirect of a shot by Ean Somoza. Owen Bohn scored two goals in the second to give Wenatchee a 3-1 lead and Somoza capped the scoring in the fourth.
Wenatchee FINALLY returns home this week to host the West Kelowna Warriors Thursday and Friday at the Town Toyota Center.
Kraken fall last to Arizona
The Seattle Kraken lost a heartbreaker Saturday to Arizona 5-4…
The game was tied 4-4 and looked to going into overtime but Seattle surrendered a goal with 1:05 left in regulation. Jordan Eberle scored his 6th goal of the season to put Seattle up early. Yanni Gourde, Nathan Bastian and Mark Giordano also lit the lamp for the Kraken.
Seattle will visit Vegas on Tuesday at 7 o'clock.