WENATCHEE- Late Saturday and Sunday, the Wenatchee Valley had the worst air quality of any reporting station in the country.
On the air quality index, 301-500 is hazardous air. Late Sunday afternoon, Wenatchee had an air quality reading of 457 and today our air quality has been hovering around 385-390. According to the EPA, Chelan currently holds the worst air quality in the nation at 413, followed by Spokane.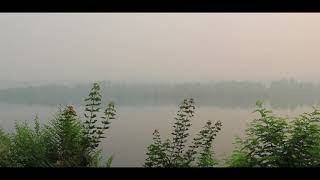 Doug Reinertson, Director of Respiratory Therapy at Confluence Health says surprisingly, they haven't seen a large upswing in respiratory patients but adds if you're feeling discomfort, or are a chronic illness patient, seek medical treatment.
"If you start to feel like you're having respiratory problems because of the smoke, get into your provider soon," Reinertson said, adding that chronic illness patients should monitor themselves and be communicating with their primary care physician.
"People without chronic illness, you're probably going to have some discomfort," Reinertson said. "We're all going to be a little bit congested because our sinuses are filtering out all these large particulates. If you're struggling to breathe, it's time to go in."
Reinertson says when the smoke is this thick, we see a combination of large and small particulates.
"Currently when it's this hazy you're seeing larger particulates mixed with the smaller particulates," Reinertson said. "The smaller particulates are more irritating to the airway because they're able to travel deeper."
He also adds that while breathing masks do help protect the lungs from particulates, in some cases, a mask could do more harm than good.
"A mask is not a solution for all patients with chronic illness," Reinertson said. "When you have an N-95 mask on it creates more resistance to your breathing, so people with chronic cardiac or respiratory illnesses, it can actually exacerbate their condition by having that mask on."
Reinertson says to stay indoors, keep away from tasks like vacuuming as it could cause more contaminants in the house. Reinertson also reminds folks to stay hydrated. He says staying hydrated helps your body and especially your lungs move harmful particulates out.