Santa paid a visit to children at Hooked on Toys today thanks to a helicopter from Life Flight Network. It was all part of the NCW Community Toy Drive presented by Les Schwab.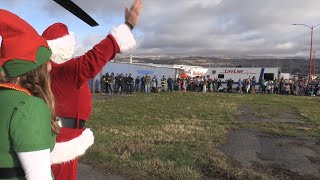 The clouds parted and the sun shown down just as the blue and white Life Flight Network helicopter circled a field behind Hooked on Toys Saturday afternoon. Over 100 children and families were gathered to greet the jolly old elf. Also on hand were first-responders from Lifeline Ambulance, Ballard Ambulance and firefighters from Chelan and Douglas County.
Collections continue through the Toy Drive to support various local organizations such as Serve Wenatchee Valley, Children's Home Society and CASA (Court Appointed Special Advocates) to provide toys for needy children in North Central Washington. Donation boxes can be found at Les Schwab, Hooked on Toys and various other sponsor locations throughout the area. For more information, go to www.lstoydrive.org.