Wenatchee won its opener at the T-Town Throwdown today in overtime over Foss…
86-78 was the final, but the Panthers had to work to get it to overtime.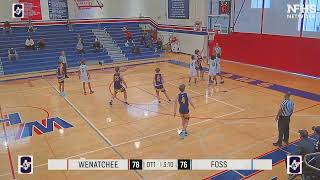 Wenatchee trailed by 3 with 11-point-7 seconds left and Trent Goodell at the free throw line. He makes the first and looks like he intentionally misses the second. Kai Bromiley comes up with the rebound, dribbles and fires the pass to the weak side for an easy layup for Drew Burleson that ties it at 76 and forces overtime.
Wenatchee works it in to Cam Loidhamer for two. Then another sweet feed to Loidhamer for two and a four-point lead. Then it's Burleson with the drive and left-handed floater for the bucket. Finally, it's the drive by Goodell and pass to Bromiley for the bucket and Wenatchee goes on for the 86-78 win.
Coming up tomorrow, Eastmont plays Federal Way or Newport at 3:45. The Panthers will face either Fanklin-Pierce or Emerald Ridge at 5:30.
Here's a look at the prep boys basketball schedule that remains today. First, for the Cascade Hoops Classic up in Leavenworth, Vashon Island faced Highland earlier today. Manson and Cascade are playing now.
Down in the SunDome in Yakima, the Wilbur-Ellis Yakima SunDome Shootout had a major reshuffle of its schedule due to teams backing out. A mix of bad weather and COVID issues forced 12 teams to withdraw…
Brewster is taking on Zillah now. Wapato and Quincy play at 6 on one court while Ephrata faces Lakewood on the other.
Also on the schedule today, Pateros hosted Republic. Okanogan is playing Deer Park in Chelan. Omak is hosting Almira-Coulee/Hartline. Liberty Bell visits Freeman at 6.
Prep girls basketball schedule
Turning to the girls schedule, we'll begin in Moses Lake where the Chief girls are hosting a mixer…
It began with Eisenhower and Central Valley. That's followed by Gonzaga Prep and Sunnyside. Moses Lake will face Mead at 6:30.
At the Cascade Hoops Classic in Leavenworth, Highland and Wapato were followed by Cascade and Manson.
Down in Yakima at the Wilbur-Ellis SunDome Shootout, Ellensburg and Zillah played earlier with Quincy and Tenino playing now.
Also earlier today, it was Republic at Pateros. Okanogan and Deer Park in Chelan. Omak hosted A-C-H. Liberty Bell is at Freeman now. Chelan hosts Napavine tonight at 6.
13 teams gather for Royal Christmas Wrestling Tournament
Plenty of precautions have been taken for today's wrestling tournament at Royal…
That's where the Knights are hosting the Royal Christmas Tournament with 13-teams in town including Erphata, Liberty Bell, Moses Lake and Quincy. The first whistle sounded sound at 10 this morning.
Cougars will face Central Michigan in Sun Bowl Friday
If we've learned anything in nearly two years of dealing with the COVID-19, it's that everything should be written in pencil, not ink…
Miami pulled out of the Tony the Tiger Sun Bowl over the weekend because of Corona Virus in their program. Initially, that meant a forfeit for Washington State. Now, bowl organizers have found a replacement.
The Central Michigan Chippewas will fill in on New Years Eve. Central Michigan was supposed to play Boise State in the Arizona Bowl New Years Eve, but the Broncos had to pull out due to COVID.
There was a thought of moving the game back a couple days, but for now, it's still scheduled for Friday morning at 9am on CBS.
Seahawks losing time of possession in close games
The Seahawks are oh-and-five in games decided by four or fewer points this year. That's a sharp contrast from two season ago when Seattle was 6-and-oh in those close games.
So what's the difference?
Time of possession. In 2019, Seattle went undefeated in tight games by possessing the ball an average of 2-minutes longer than their opponents. This year? The five games where the Seahawks have lost close games find the opposition holding the ball an average of 14-minutes longer. Tough to score if you don't have the ball.
Coach Pete Carroll says it's also about players trying to do more in those tight situations when they don't have to…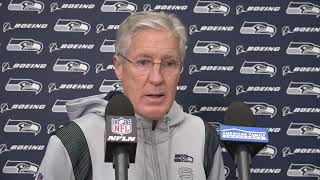 Seattle is set to host Detroit Sunday and then travel to Arizona to finish the season. Coach Carroll was asked if the approach to these final two games will change since there's not shot at the playoffs…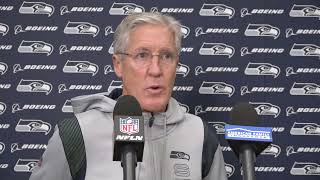 Seattle and Detroit kick off at Lumen Field Sunday at 1:25 on FOX.
Gonzaga hosts North Alabama tonight in Spokane
4th-ranked Gonzaga gets back on the hardwood tonight in Spokane…
The bulldogs will host North Alabama tonight at 6 o'clock. It will be broadcast in Spokane on KHQ as well as ROOT Sports.