We'll start from Friday and work our way up to today, beginning with the Les Schwab Boys Basketball Scoreboard…
Wenatchee was held to single-digits in all four quarters, falling at Davis Friday 62-31. Moses Lake pounded Eisenhower 77-44. Okanogan beat Brewster 60-55. Othello nipped Ephrata 63-60. Pateros edged Waterville-Mansfield 39-35. Tonasket topped Manson 72-64. And Riverside-Christian eased past Entiat 66-32.
In girl's play Friday, Kristina Blauman had 11-points for Wenatchee, but it wasn't enough as the Panthers fell at Davis 48-34. Kiana Yesiki scored 27-points for Ike as the Cadets beat Moses Lake 58-54. Othello stpped Ephrata 54-42. Okanogan demolished Brewster 67-13. Waterville-Mansfield popped Pateros 52-44. And Tonasket mauled Manson 64-25.
Littler's hat trick leads Wild to 6-2 win over Merritt
The Wenatchee Wild continued its winning ways Friday with a big 6-2 win over the Merritt Centennials…
Cade Littler came away with a hat trick on the night, which brought teddy bears reigning down in the first period on his opening goal. Our friend Sean Zears had the call on Hockey TV…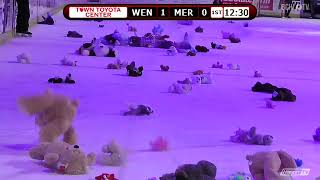 Also scoring goals for Wenatchee were Cade Stibbe, Ben Ivey and Owen Bohn. Tyler Shea stopped 35 out of 37 shots on goal in the win.
Montana State advances to FCS Championship
Saturday's sports day began with an impressive win for Montana State in the FCS semifinals…
The Bobcats broke open a 17-all game to down South Dakota State 31-17 to advance to the FCS Division I-AA Championship against North Dakota State. The game will be played in Frisco, Texas on January 8th at 9am on ESPN-2.
Men's College Basketball Scoreboard
Football gave way to basketball Saturday with 5th-ranked Gonzaga taking down 25-rated Texas Tech 69-55…
Andrew Nembhard scored 16-points and had 6-assists to lead the Bulldogs.
DJ Rodman came off the bench to score a career-high 21-points to lead five players in double-figures as Washington State cruised to an 82-56 win over Northern Colorado.
Washington returned from a three-week absence due to COVID and beat Seattle U 64-56 Saturday. Emmitt Matthews, Jr. led the Huskies with 17-points.
Moses Lake girls down Eastmont in Big-9 hoops
Before we get to the women's side of the Les Schwab Scoreboard, we had a couple high school games here on the NCWLIFE Channel Saturday…
It began with Moses Lake visiting Eastmont as Sydney Macdonald scored 13-points to lead the Chiefs over the Wildcats 47-31. Eric Granstrom and Grant Olson had the call…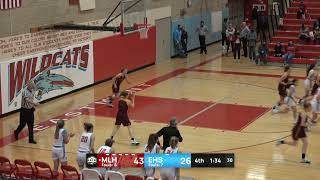 In other action Saturday, Wenatchee edged Cheney 39-38. Quincy topped Tonasket 64-23. Okanogan cruised over Chelan 58-27. Cle Elum/Roslyn downed Pateros 41-23. Liberty blasted Brewster 66-28. And Waterville-Mansfield remained unbeaten with a 37-35 win over Wilbur-Creston.
Moses Lake boys survive scare and beat Eastmont
Turning to the boy's side Saturday…
Eastmont came back from being down 21-points to Moses Lake in the second half and cut the lead to two, but couldn't get any closer as the Chiefs held on for the 75-69 win. Grant and Eric had the call here on the NCWLIFE Channel…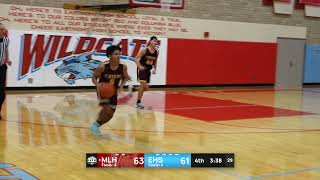 In other boy's play Saturday, Cheney edged Wenatchee 60-57. Quincy quieted Tonasket 81-45. Okanogan edged Chelan 60-56. Wilbur-Creston got by Waterville-Mansfield 43-22. And Liberty beat Brewster 68-59.
Wild win 5th straight by downing Merritt 4-1
Back on the ice, the Wenatchee Wild won their fifth straight game by downing Merritt 4-to-1…
The Centennials got on the board first and led 1-nothing until Wenatchee got the scoring going in the second period. Sean Zears had the call on Hockey TV…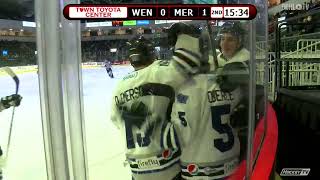 Brett Oberle, Hudson Blue, Owen Bohn and Mario Gasparini all scored for Wenatchee. The Wild get a break for Christmas and will be back at the Town Toyota Center December 30th against Prince George.
Kraken fall to Oilers and have unscheduled break
The Seattle Kraken lost their second-straight NHL game Saturday, falling at home to Edmonton 5-to-3…
It was a rare case of Seattle getting out to a 2-0 lead and not being able to hold on. Ryan Donato and Jared McCann put the Kraken up 2-nothing midway through the first period. The Oilers tied it before the end of the first. The teams traded goals in the second before Edmonton scored two, unanswered goals in the 3rd to win it.
Seattle's game Sunday against Toronto and this week at Calgary are postponed due to COVID running wild through the league.
Van Lith leads Louisville past U-Conn
Turning to the Les Schwab Women's College Basketball Scoreboard from the weekend…
Washington State shot just 26-percent from the field in falling to BYU Saturday 71-53. Charlisse Leger-Walker led the Cougars with 21-points.
Alexis Whitefield broke a 54-all tie with a jumper with 1:16 remaining to lift Washington over Eastern Washington 62-59 in Seattle Saturday.
Hailey Van Lith drained two, crucial three-pointers down the stretch to help #6 Louisville edge #7 U Conn 69-64 on Sunday. The game was broadcast LIVE on ESPN…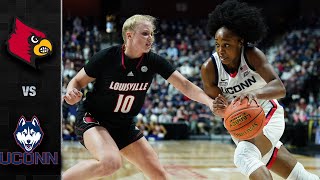 Hailey had 16-points to help Louisville to the win.
Gonzaga blew a 15-point halftime lead and fell on the road to UC Davis 69-66. The Aggies outscored the Bulldogs 19-to-8 in the decisive 4th quarter.
Washington State finished the weekend going oh-for-two, falling Sunday to Stony Brook 69-62. Charlisse Leger-Walker led the way with 19-points.
COVID still hampering Seahawks and Rams
The Seahawks hope to have Tyler Lockett and Alex Collins back in the lineup when they play the Rams tomorrow afternoon…
Seattle makes the trip to L-A today after the game was postponed to tomorrow after 29-Ram players tested positive for COVID. Kickoff is set for 4 o'clock on FOX.
GESA Winter Shootout basketball tournament at hand
Eastmont and Wenatchee high schools are on the holiday break, but will host a basketball tournament over the next three days…
The girls GESA Winter Shootout begins tonight at 6 o'clock with Wenatchee hosting Prosser and Eastmont welcoming Hanford. Tomorrow at 6, it's Kennewick at Wenatchee and Prosser at Eastmont. Then Wednesday at 1, it's Davis at Wenatchee followed by Kennewick at Eastmont at 2:30.
Here's what the boy's schedule looks like. Mead faces Eisenhower today at 1:30 at Wenatchee High School. Then tonight at 7:30 it's Prosser at Eastmont and Moses Lake at Wenatchee. Tomorrow's 6 o'clock game at Wenatchee has Prosser taking on Moses Lake. Eastmont hosts Eisenhower at 7:30. Then on Wednesday at 2:30, it's Prosser at Wenatchee.