The Mariners Care Community Tour, formerly known as the Mariners CaraVan, made its way through Wenatchee today. The first stop was at John Newbery Elementary School with two players and longtime broadcaster Rick Rizzs. Of course, all three were upstaged with kid-favorite the Mariner Moose. NCWLIFE Channel's Eric Granstrom was there and has the story.
The players are pitcher Matt Festa along with catcher/1st baseman Austin Nola. They are providing the literal fresh face of the Mariners as a youth movement is underway. Following their visit with the kids at John Newbery, the Tour stopped at Pybus Public Market for a question and answer time followed by an autograph session.
The Mariners Care Community Tour began Monday in Yakima. After its stop in Wenatchee today, it's off to Spoken and Coeur d'Alene Wednesday, Walla Walla Thursday and Pasco on Friday.
Wild employee camps out on the TTC's balcony for a cause
Today is Day 2 of a Wenatchee Wild employee living on the outside deck atop the Town Toyota Center trying to sell tickets for a good cause…
That's David Rayfield, he's the Wenatchee Wild's Senior Sales and Operations Coordinator. He's living on the balcony of the Town Toyota Center for as long as it takes to sell 500 tickets to the Wild's January 18th game against Surrey, which is Military Appreciation Night. For ever 15-dollar ticket he sells, 5-dollars goes to the Bunker and the Thomas Biddle Foundation to help veterans.
One day in and he's nearly a fifth away from his goal. You can call the Wild's office at 888-7825 to buy tickets and help get David off the ledge.
Big-9 Girls Bowling sees big day at Eastmont Lanes
It's a busy Tuesday around the area in prep sports, beginning in girls bowling this afternoon…
Eastmont Lanes is the sight for two critical matches in the alignment of the Big-9 standings. Wenatchee's currently in 1st place at 6-and-2 and will host Moses Lake. The Chiefs are tied for 4th place with West Valley. Meanwhile, Eastmont is in 3rd place and hosts the Rams. The action gets underway at 2 o'clock.
Three prep basketball doubleheaders featured tonight
In prep basketball tonight…
Cashmere hosts Cascade in Caribou Trail League play tonight at 5:45 while Chelan's in Omak at 6. In B-league play, Manson hosts Tonasket at 6 o'clock.
It's the same schedule for the boys tonight, only later time slots as Cascade visits Cashmere at 7:15 while Omak hosts Chelan. At 7:30 it's Tonasket and the Trojans in Manson.
Wrestling evening features double-dual in Leavenworth
There are also some wrestling matches on tap tonight…
Cascade hosts Cashmere, Okanogan and Omak in a double dual in Leavenworth beginning at 6 o'clock. Then at 7, Quincy plays host to Selah in Central Washington Athletic Conference action.
Wrestling kicks off week of sports on NCWLIFE Channel
Speaking of wrestling, that's what we have on tap tonight to begin our week of sports on the NCWLIFE Channel…
Tonight's match is from last year between Wenatchee and Eastmont at 7. Hockey Night Thursday features last Friday's game between the Wild and Victoria.
We're back to live action coverage Friday with a triple-header at the Town Toyota Center Wenatchee Eastmont taking on Wenatchee. We'll start at 6:30 with the Unified game, then follow with the girl's game at 7:30, followed by the boy's game at 9. Eric Granstrom and Grant Olson will have your play-by-play.
Then on Saturday, Grant will be courtside at Wenatchee High School for the Panthers and Eisenhower Cadets. The girls game is at 5:30 followed by the boys at 7:30 right here on NCWLIFE Channel.
Pete Carroll says they'll need to run more in next playoff game
Upon further review of Sunday's 17-9 win over Philadelphia, Seahawks Coach Pete Carroll says the only thing missing was a running game. Seattle was held to 64-yards rushing by the Eagle's defense. Carroll says, thankfully, Russell Wilson threw for 325-yards and third down was a big factor in the Seahawk's victory…
As Seattle prepares for a Divisional playoff game in Green Bay against the Packers this Sunday, Carroll says Marshawn Lynch will be involved more in the game plan…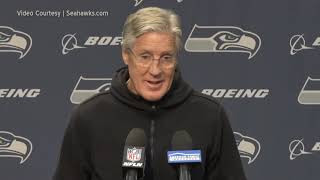 Seattle will kick off at Lambeau Field Sunday at 3:40 on FOX.