Kyle Seager has hung it up…
After 11-seasons in Major League Baseball, all with the Seattle Mariners, the 34-year old third baseman announced his retirement Wednesday. And the way he did it was hallmark to the man he is. No fanfare. No grandiose goodbye. He just had his wife post a simple note from Kyle on her Twitter account.
In three simple sentences, Seager wrote, "Today I'm announcing my retirement from Major League Baseball. Thank you to all of my family, friends and fans for following me throughout my career. It's been a wonderful ride but I am unbelievably excited for the next chapter of my life."
Seager became a free agent after a season in which he had career highs with 35-home runs and 101-RBI's.
Kraken fall to Flyers in OT
After 11-days without a game, the Seattle Kraken were back on the ice last night at Climate Pledge Arena…
Philadelphia was in town in one of six games played in the NHL. Another five were postponed due to COVID.
Despite a valiant effort, Seattle fell in overtime 3-to-2. Yanni Gourde knotted the game at 1 late in the first period…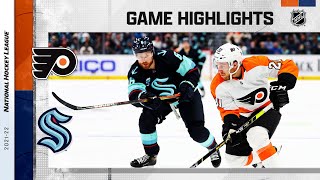 The Kraken are back on the ice tonight against the Calgary Flames at 7 o'clock in Seattle. You can watch the action on ROOT Sports Northwest.
Wild end break tonight and tomorrow against Spruce Kings
The Wenatchee Wild hope to pick up where they left off before the holiday break…
Wenatchee rides a 5-game winning streak as they host Prince George in the first of two games tonight at the Town Toyota Center. The Wild and Spruce Kings drop the puck tonight at 6 and tomorrow at 7:05.
Eastmont wins, Wenatchee loses in OT at T-Town Throwdown
Turning to the Les Schwab Prep Basketball Scoreboard…
Wenatchee played another overtime game at the T-Town Throwdown Wednesday, falling in overtime to Newport 60-58. It was the second-straight overtime game for the Panthers in two days.
Wenatchee had a chance to ice the game in regulation, leading by one with 39-seconds to go, but Camden Loidhamer was called for an offensive foul. Another foul called with 4-seconds left put Newport at the free throw line where Cole Ahlstedt hit the second end of two to send it into overtime…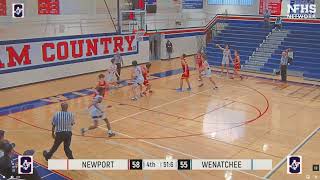 Eastmont narrowly avoided overtime in downing Silas, formerly Wilson High, 73-70…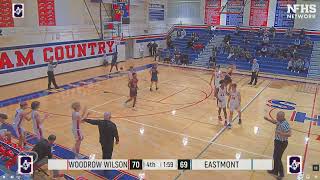 Eamon Monahan hit a big three-pointer with under 2-minutes to go to give Eastmont the lead. Silas countered with a deep three by Caleb Wenz to give the Rams the lead back. After Monahan hit a free throw to tie it, Tyrell Malcolm drained two free throws to give the Wildcats the lead with 11.8-seconds left and then stole the ball and was fouled to add one more free throw to ice it and give Eastmont a 73-70 victory.
In other action Wednesday at the Cascade Hoops Classic in Leavenworth, Cascade beat Highland 32-13 and Manson topped Vashon Island 63-57. Down in Yakima at the Wilbur-Ellis SunDome Shootout, Ephrata edged Royal 59-52, Brewster beat Lakewood 62-50, and Ellensburg caught Cle Elum 59-53.
Deer Park topped Chelan at the Holiday Tournament 56-54. Pullman crushed Cashmere 70-30. Bridgeport beat Pateros 68-35. And it was Wilsbur-Creston over Entiat 45-40.
Prep girls basketball scores and schedule
Turning to the girls on Wednesday at the Moses Lake Mixer…
Gonzaga Prep better Eisenhower 56-46. Mead stunned Sunnyside 55-39. And Moses Lake got by Central Valley 57-47.
Coming up today, Mead and Ike face off at 3:30 followed by Sunnyside and Central Valley at 5 and G-Prep and Moses Lake at 6:30.
In Leavenworth, Highland beat Cascade 57-20 and Wapato took it to Manson 72-21. At the SunDome, Ellensburg beat Mount Spokane 70-to-19.
At the Chelan Holiday Tournament, Okanogan beat Napavine 59-18 while Chelan topped Deer Park 46-39. Also last night, Pateros bettered Bridgeport 42-34 and Ephrata eased past East Valley 69-42.
On the girls schedule today, Ephrata plays Timberlake at West Valley at 5. Quincy hosts Othello at 6 while Waterville-Mansfield welcomes Almira-Coulee/Hartline.
On the boys schedule, Okanogan plays in Chelan at 3. Cashmere faces Liberty of Spangle in Spokane at 3:30. Quincy takes on Othello at 7:30. And the Shockers and Warriors do battle in Waterville tonight at 7:30.
On the mats today, the Eastmont and Moses Lake girls will travel to the Hanford Invite starting at 9am. The Chelan, Okanogan, Omak and 12-other boys squads will gather for the Freeman Winter Classic at 10.
College basketball schedule affected by COVID
Last night's Washington vs Washington State men's basketball game was postponed due to COVID in the Cougar program. There's no word on when it will be made up.
Gonzaga's game tonight at San Diego has also been postponed due to COVID. Eastern Washington is set to play at Portland State tonight at 7 on ESPN-plus.
Hailey Van Lith and her 3rd-ranked Louisville Cardinals host Boston College today at 4 o'clock. You can watch if you subscribe to the ACC Network. Portland State and Eastern Washington have been postponed. The Gonzaga women will host San Francisco at 6 o'clock.