The Seattle Kraken's losing streak reached 7-games last night with a 5-2 defeat at Dallas…
A trend continued last night during this streak, the opponents scored first. The Stars had a 1-nothing lead just 50-seconds into the contest. Seattle battled back but it wasn't enough…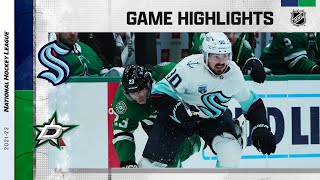 Coach Dave Hakstol says he was happy with the effort over the final two periods, but the Kraken struggled in the first against a good team…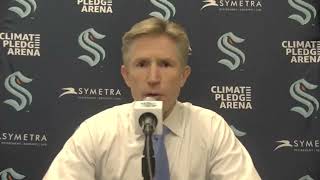 Seattle turns right around with a game at St. Louis tonight at 5 o'clock on ROOT Sports Northwest.
Wild return from 15-day absence for game Saturday
By the time Wenatchee drops the puck against Penticton this Saturday at the Town Toyota Center, it will have been 15-days since they last played hockey…
Wenatchee lost four games to start the new year with COVID protocols. Coach Chris Clark says it may be a good thing to allow his players rest and recovery…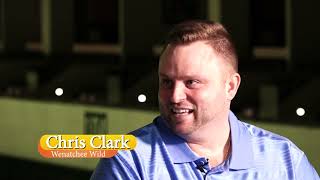 We had a chance to sit down with Clarky and Dave Rayfield of the Wenatchee Wild yesterday in their barn, which aired this morning on Wake Up Wenatchee Valley.
Prior to the break, Wenatchee had turned its season around with six wins out of seven games. Coach Clark says the biggest change was his players just getting experience…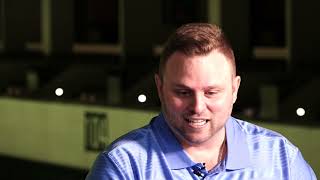 Wenatchee hosts Penticton Saturday night at 6 o'clock at the Town Toyota Center.
Washington downs Cal in Pac-12 play
The Washington Huskies got a big win in Pac-12 play last night…
Terrell Brown, Jr. scored 21-points while Nate Roberts had 10-points and 10-rebounds as Washington beat Cal 64-55. Coach Mike Hopkins says Roberts presence inside was key…
Washington improved to 2-and-2 in Pac-12 play with the win.
On the men's schedule today, Eastern Washington and Idaho State were postponed by COVID. Washington State hosts Stanford at 2 o'clock on ESPN-U. BYU visits second-ranked Gonzaga tonight at 8 o'clock on ESPN-2.
Hailey Van Lith and her 3rd-ranked Louisville Cardinals have an ACC clash with Syracuse today at 4 o'clock in women's play. Eastern Washington hosts Idaho State at 6 on ESPN-plus. The Gonzaga women play at Pacific at 7.
Prep hoops and wrestling schedule
Coming up on the prep sports schedule today…
Just one game on the girl's docket as Cascade Christian hosts Entiat at 6 o'clock.
In boys basketball tonight, Chelan is scheduled at Royal at 6:30. The Entiat and Cascade Christian boys tip it up at 7:30.
On the wrestling mats tonight, Moses Lake hosts West Valley at 5. Cashmere, Omak and Quincy meet in Chelan at 6. Ephrata travels to Prosser at 7 o'clock.
Eastmont and Wenatchee on NCLWIFE Channel Friday
And just a reminder that we'll have high school basketball on NCWLIFE Channel tomorrow night when the Wenatchee Panthers host the Eastmont Wildcats. The girls tip at 5:45, which we'll stream LIVE on our Facebook page. The boys follow at 7:30, which will be LIVE on TV as well as our streaming aps. The girls game will air on TV tomorrow night at 10:30. Grant Olson will be courtside with your play-by-play here on the NCWLIFE Channel.