Kalen DeBoer was introduced as the new Washington Husky football coach Tuesday. Amid cheerleaders and the Husky marching band, athletic director Jen Coen said they were looking for a coach who would care for the players on and off the field…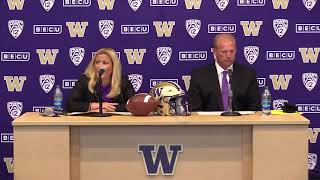 DeBoer has a successful track record, winning three NAIA national championships at Sioux Falls before making a winner out of Fresno State. He says he believes in building a culture based on expectations…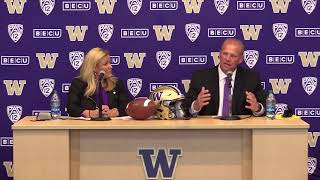 DeBoer has already hit the ground running on recruiting. Early reports have former UW quarterback Jake Haener coming back to Seattle after spending a year playing under DeBoer at Fresno State.
Quincy and Chelan girls win on opening night
Taking a look at the Les Schwab Girls Basketball Scoreboard from last night…
Cascade traveled to Sultan and came up short 61-26. Quincy downed Ephrata in the Battle of the Basin 53-48. Chelan upended Brewster on opening night 54-33. Cascade Christian Academy held Waterville-Mansfield to just 18-points in a big 63-18 win. Pateros had no trouble with Soap Lake, winning 44-14. And the Wenatchee girls found the road rough in Ellensburg, falling to the Bulldogs 78-15.
On the Les Schwab Boys Basketball Scoreboard, Sultan beat Cascade 78-35. Brewster edged Chelan 74-70. Waterville-Mansfield won its opener at Cascade Christian Academy 47-18. Soap Lake stopped Pateros 67-16. And Walla Walla beat Moses Lake 72-37.
Eastmont and Wenatchee bowlers post victories
Eastmont and Wenatchee picked up wins at Eastmont Lanes in girls bowling yesterday…
The Wildcats swept two games and two bakers from West Valley, winning the pin count 1,894 to 1,540. Colby Hull rolled the high game of the day for Eastmont with a 186 while Jordan May had a 177.
Wenatchee swept two games and two bakers from Moses Lake, winning the pin count 1,683 to 1,379. Freshman Charlene Campbell was the high bowler to help the Panthers with a 188.
Cougars open Pac-12 men's basketball schedule today
There is one college basketball game on the schedule for today…
Washington State is on the road in Phoenix to open Pac-12 play against Arizona State. The game tips at 4:30 on the Pac-12 Network.
BCHL juggling schedule changes thanks to Mother Nature
The COVID-19 pandemic shut down the BCHL's playoffs in early 2020. It kept Wenatchee from traveling north of the border last season. Now, the league is dealing with the havoc of Mother Nature…
The league announced Tuesday that it has postponed eight games over the next week due to travel restrictions. Another six games have been rescheduled and one game cancelled altogether. In addition, the BCHL announced that all out-of-conference games would be cancelled for the rest of the season.
The interim radio "voice" of the Wenatchee Wild, Sean Zears, told us Wenatchee's game at Merritt was in doubt because of the weather…
As of now, things are still on for Wenatchee's trip to Merritt on Friday and Penticton on Saturday. We'll keep you up to date if things change. Wenatchee is set to return home to begin a 5-game home stand on December 16th.
Kraken get first-ever crack at Red Wings
It's drizzling with temperatures in the low 40's today in Detroit. That's where the Seattle Kraken play today in NHL action…
Seattle has won four of its past five games to improve to 8-13-and-1. The Red Wings are 11-9-and-3 and currently sit in 4th place in the Atlantic Division. The puck is set to drop at 4:30 in Little Caesars Arena. You can watch the action on ROOT Sports Northwest.
Mariners shoring up roster before possible lockout tonight
Major League Baseball's current collective bargaining deal runs out at 8:59 Pacific tonight. If no deal is signed, a lockout could be eminent. The Mariners got ahead of things yesterday by offering contracts to 33-players for the 2022 season. They also expect to introduce pitcher Robbie Ray today.
Ray is reportedly signing a 5-year, 115-million-dollar contract to come from Toronto to Seattle…
He becomes the just the 5th pitcher since 1974 to win a Cy Young Award for one team, then sign with another team in free agency the next season.
Meanwhile, with Seattle offering contracts and basically filling their 40-man roster, Mariner president of baseball operations Jerry Dipoto will have a full team in place to operate with should the collective bargaining agreement fall through.