It seems all too often that Mariner fans sit back while other teams play in the postseason and watch for Seattle players do well. Such was the case last night for former Mariner Chris Taylor…
Taylor and the Dodgers stayed alive with a big 11-2 win over Atlanta in Game 5 of the National League Championship series last night. AJ Pollock also helped the cause with two homers of his own.
Game-6 of the American League Championship series is tonight at 5:08 in Houston where the Astros lead the Red Sox 3-games-to-2. Game 7, if necessary, would be tomorrow night at 5:08. Today's game is on FS1 and tomorrow's game would be on FOX.
Game-6 of the NLCS is tomorrow afternoon at 2:08 in Atlanta. Game-7, if necessary, would be Sunday at 4:38 on TBS.
Wild will have to wait another week to crack the win column
The Wenatchee Wild lost a heartbreaker in a shootout to Powell River yesterday at the BCHL Showcase…
Ben Troumbly and Ben Ivey scored goals in the 3rd period to give the Wild a brief lead, but the Kings scored in the final 5-minutes to tie it. After a scoreless overtime, the two faced off in a shootout with Powell River posting the win.
Wenatchee has a week to prepare for its next game at Salmon Arm next Friday.
Kraken open Climate Pledge Arena vs Vancouver Saturday
The Seattle Kraken finally get to play a home game this weekend…
After starting the season on the road for four games, Seattle celebrates the opening of Climate Pledge Arena Saturday night against the Vancouver Canucks. The Kraken are off to a 1-and-3 start while the Canucks are 2-and-2. They'll drop the puck at 7 o'clock Saturday night.
Huskies play tonight, Rolovich-less Cougars host BYI
The college football weekend begins tonight for the Washington Huskies…
Washington travels to Arizona to take on the Wildcats at 7:30 tonight on ESPN2.
The Washington State Cougars close the chapter on Nick Rolovich and begin anew under Jake Dickert tomorrow at 12:30 in Pullman. Rolovich was fired this week for refusing to get the COVID vaccine and Dickert was named the interim coach. WSU will host BYU in Pullman at 12:30 on FS1.
Eastern Washington is on the Red Carpet tomorrow at 1 o'clock against Weber State.
Central Washington has a home game at 6 tomorrow night against Western Oregon.
Soap Lake downs Pateros in B-league football
The prep football schedule got underway last night for the B's…
Soap Lake evened its record at 3-and-3 with a 40-to-14 win over Pateros.
In other action for the B's this weekend, Brewster hosts Oroville tonight while Entiat visits Bridgeport; Manson takes on Lake Roosevelt; and Okanogan plays at Tonasket. Coming up tomorrow, Waterville-Mansfield plays at Liberty Bell at 3 o'clock.
Cashmere hosts Omak tonight LIVE on NCWLIFE Channel
A game we're looking forward to tonight here on the NCWLIFE Channel features the Cashmere Bulldogs and Omak Pioneers…
Kickoff is set for 7 o'clock in Cashmere where the Bulldogs are ranked 13th in the state's RPI system and have a 4-and-3 overall record. Coach Bryan Bremer says it's been a learning year for his team…
Cashmere's coming off a heartbreaking 24-19 loss in the Pear Bowl to Cascade last week and has to turn around and face the 7th-ranked team in the state…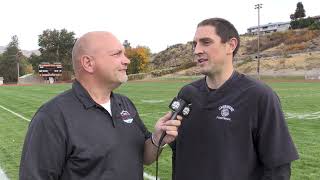 Cole Scott is a six-three, 265-pound two-way senior lineman who says Cashmere's had an up and down season so far…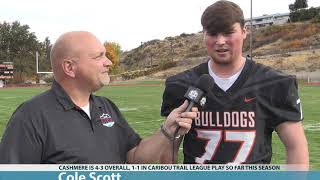 The Bulldogs will depend on wide receiver Jack Croci (like the singer) to deliver when it counts tonight against the Pioneers…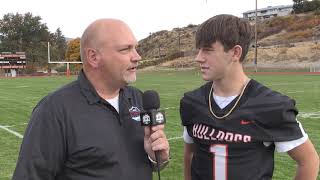 Eric Granstrom will be joined by former Cashmere quarterback Pete Phillips on the broadcast tonight, beginning with our pregame at 6:30 here on the NCWLIFE Channel.
In other Caribou Trail League football tonight, Cascade's on the road at Coupeville while Chelan plays at Quincy.
Eastmont playoff hopes still alive, face road test tonight
Despite stumbling two weeks ago against Moses Lake, Eastmont still has a shot at the playoffs as they travel to Sunnyside tonight. Wildcat coach Michael Don says, basically, the playoffs are now…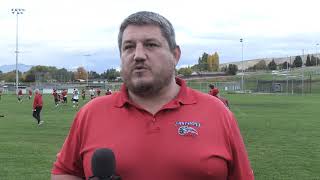 Sunnyside is coming off its first Big-9 loss of the season last week to Moses Lake by a score of 23-22 and will open its brand new stadium tonight against Eastmont. Don says his defense will have its hands full…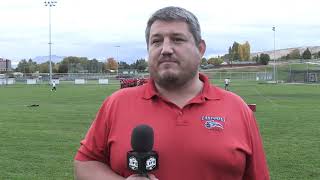 Eastmont senior defensive lineman Caleb Garcia says it's important for he and his teammates to listen to the coaching staff and make improvements from week to week and play-to-play…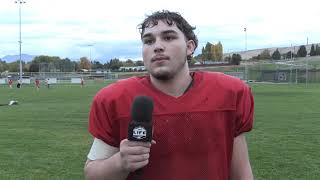 Eastmont and Sunnyside kickoff tonight at 7 o'clock.
Wenatchee hosts top-10 ranked Union in Apple Bowl
The Wenatchee Panthers host a non-league game tonight in the Apple Bowl against Union. Coach Scott Devereaux's team is off to a 1-and-4 start and says it's time for some leadership to show itself…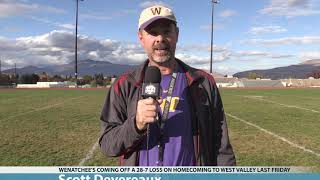 One of those senior leaders who's back after missing four games with an injured thumb is offensive center and linebacker Tre Jagla. He says it's good to be back…
Wenatchee and Union have an early kickoff at 6 o'clock tonight at Lee Bofto Field at the Apple Bowl.
The rest of the Big-9 schedule has Moses Lake at Davis while West Valley hosts Eisenhower.
In CWAC play tonight, Selah hosts Rogers of Spokane. Ephrata entertains Grandview. Ellensburg visits Othello and Prosser travels to East Valley.
Wenatchee wins Big-9 regular season title
The Wenatchee Panthers secured a regular season Big-9 Title in volleyball last night…
Wenatchee swept Davis in three sets to win the Big-9 and be able to host the District Tournament in a couple weeks.
The rest of the Les Schwab Prep Volleyball Scoreboard had Eastmont blanking Eisenhower. Sunnyside swept Moses Lake. Ellensburg beat Ephrata. Chelan secured the Caribou Trail League title with a 3-1 win over Cashmere. Brewster swept Cascade. Omak quieted Quincy. Tonasket topped Liberty Bell in quite a battle, 3-2. Okanogan also went 5-sets with Lake Roosevelt to win the Central Washington B League Title. Moses Lake Christian beat Cascade Christian in 4-sets.
Coming up tomorrow, Waterville-Mansfield plays at Riverside Christian at Noon. Quincy hosts Lakeside, Nine Mile Falls at 1. Manson will entertain Brewster tomorrow night at 6:30.
Cashmere remains unbeaten in CTL girls soccer
In Prep Girls Soccer yesterday…
Cashmere blanked Chelan 2-nil. Quincy clobbered Omak 4-nil. Brewster was also a 4-nil winner over Manson. Tonasket topped Liberty Bell 4-1. Lake Roosevelt edged Pateros 3-2. And Othello topped Ephrata 2-1.
On the schedule tomorrow, Eastmont hosts Eisenhower. Wenatchee travels to Davis. Moses Lake hosts Sunnyside. And Cashmere travels to Cle Elum-Roslyn. All the games get underway at 1 o'clock.
Seahawks host Saints on Monday Night Football
Lastly, the Seahawks play their third-straight nationally televised game on Monday…
Lumen Field is the location for the Hawks and New Orleans Saints. Kickoff on Monday Night Football is set for 5:15.