Despite a cap put on attendance for last night's basketball games between Eastmont and Wenatchee at Wenatchee High School, a good crowd gathered for two rivalry games…
In the opener, Eastmont took a four-point, halftime lead and held Wenatchee to just 2-points the entire second half in a 44-15 victory. Annelise Bouman led the Wildcats with 10-points while Gabriella Volyn had 6 for Wenatchee.
Eric Granstrom and Grant Olson had the call here on the NCWLIFE Channel…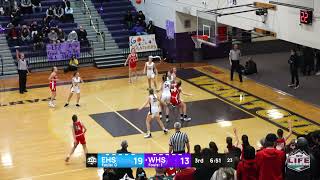 Wenatchee dropped to 2-and-7 with the loss while Eastmont improved to 2-and-7 with the win.
Monahan pumps in 32 to lead Eastmont over Wenatchee
The boys game was also a tail of two halves as the Wildcats and Panthers traded leads 5-times in the first 16-minutes. But it was all Eastmont in the second half as Eamon Monahan exploded for 17 of his game-high 32-points to lead the Wildcats to a 68-49 victory.
Grant and Eric teamed up again with the call here on the NCWLIFE Channel…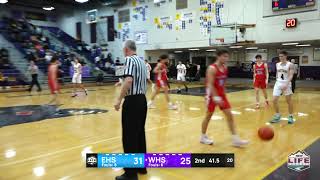 As we mentioned, Eamon Monahan had 32-points. Grant visited with the junior guard and coach George Juarez after the ballgame…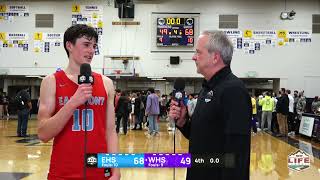 Rivers Cook led Wenatchee with 10-points as the Panthers fell to 4-and-6. Eastmont's Ethan Easley chipped in 17-points as the Wildcats improved to 7-and-2.
Prep basketball roundup
Turning to the Les Schwab Prep Boys Basketball Scoreboard…
Chelan traveled to Cashmere and beat the Bulldogs 65-47. Quincy cruised to an 84-28 win over Cascade. Omak tripped Tonasket 62-58. And Ephrata edged East Valley in a low-scoring affair 38-34.
In other boy's action, Brewster bounced Oroville 68-32. Soap Lake won at Cascade Christian 64-45. Bridgeport beat Wilson Creek by 20, 64-44. Entiat popped Pateros 52-26. And Okanogan lolled Liberty Bell 75-43.
On the Les Schwab Prep Girls Scoreboard, Cashmere crushed Chelan 67-28. Quincy caught Cascade 30-21. Tonasket tipped Omak 49-47. And East Valley won narrowly over Ephrata 66-60.
Brewster beat up on Oroville 58-to-8. Cascade Christian slipped by Soap Lake 46-31. Bridgeport beat Wilson Creek 60-38. Pateros downed Entiat 52-38. And Okanogan outplayed Liberty Bell 84-14.
The schedule tonight includes Waterville-Mansfield hosting Cascade Christian up in Waterville. The girls will tip it at 6 with the boys to follow at 7:30. The Wenatchee and Shadle Park games for tonight have been cancelled.
Weather has postponed tonight's wrestling match for Eastmont at Sunnyside. The pending storm caused a bussing issue for Eastmont. I'm told they'll make it up with a double-dual later this season.
COVID postpones three Seattle Kraken games
We are coming up on two years since the terms Corona Virus and COVID-19 came into our lexicon, and we're nowhere new being done with them…
The pandemic has once again reared its head in the NHL and has forced the Seattle Kraken to cancel three games this week against the Islanders, Senators and Jets.
For coach Dave Hakstol, all the Kraken can do is focus on having some good practices in the meantime…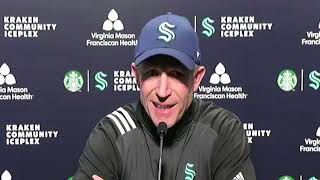 Right now, Seattle's next game scheduled is next Monday at Colorado.