It's been nearly a week since Washington State announced Jake Dickert as the Cougar's next head coach, but the official presentation was made yesterday in Pullman by athletic director Pat Chun…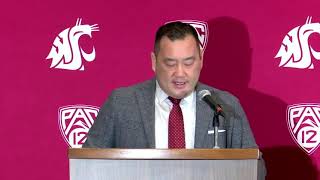 Dickert was choked up as he took the podium to accept the task of making Washington State relevant again in the Pac-12…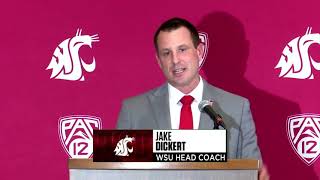 Coach Dickert and the Cougars will learn of their bowl invitation this weekend.
Eagles face Grizzlies in FCS playoffs tonight
It's a battle of familiar foes tonight in the second round of the FCS Playoffs…
The 10-and-2 Eastern Washington Eagles travel to Missoula to face the 9-and-2 Montana Grizzlies. This will be a battle of the Grizz defense, allowing an average of 13-points per game, against the high flying Eagles offense, averaging 44-points a game. Kickoff is set for 6 o'clock at Washington-Grizzly Stadium on ESPN-plus.
Montana State will host U-T Martin tomorrow at 1, also on ESPN-plus.
State high school championships will be settled tomorrow
The State high school football championships will be settled tomorrow in Western Washington…
Almira-Coulee/Hartline faces Quilcene for the 1B championship in Tacoma at Noon. That's followed by Graham-Kapowsin against Lake Stevens for the 4A title.
Royal faces Eatonville in Lakewood at Noon for the 1A championship. Kalama and Napavine play for the 2B title following at 4 o'clock.
The third site is at Sparks Stadium in Puyallup where Bellevue faces Kennewick for the 3A title at Noon followed by the 2A championship between Tumwater and Lynden.
Prep basketball scoreboard
Here's a look at the Les Schwab scoreboard from prep basketball last night…
In boys basketball, Tonasket topped Cascade 73-53. Liberty Bell beat Omak 44-40. Ephrata edged Cashmere 67-55. And Manson beat Bridgeport 74-53.
In girls basketball last night, Tonasket won by 40 over Cascade. Omak bounced Liberty Bell 49-36. Cashmere won by 35 over Ephrata. Manson topped Bridgeport 52-34. And Cascade Christian beat Eastmont's C team 28-14.
Prep basketball schedule
Coming up tonight in girls basketball…
Wenatchee game against Shadle Park has been cancelled. Eastmont hosts Chelan at 5:45. The 6 o'clock games have Cascade at Naches Valley; Brewster hosts Kettle Falls; Soap Lake visits Bridgeport; and Liberty Bell hosts Davenport. The late games tonight have Waterville-Mansfield at Entiat and Moses Lake hosting Chiawana.
Here's a look at tomorrow's schedule as Wenatchee plays at Ridgeline at 3:30. Manson visits Soap Lake at 4:30. Moses Lake tips at Ferris at 5. Wahluke hosts Quincy at 6 while Cashmere plays at Zillah.
On the boy's slate tonight, Moses Lake plays at Chiawana at 7. The rest of the games at 7:30 have Chelan's at Eastmont; Cascade travels to Naches Valley; Brewster hosts Kettle Falls; Soap Lake's at Bridgeport; Entiat hosts Waterville-Mansfield; and Davenport plays at Liberty Bell. Wenatchee and Shadle Park has been cancelled.
On Saturday, it's Riverside Christian at Waterville-Mansfield at 4. Ridgeline hosts Wenatchee at 5. Moses Lake travels to Post Falls, Idaho at 5:45. Manson visits Soap Lake at 6. Then at 7:30 it's Quincy at Wahluke and Cashmere at Zillah.
Wrestling season gets underway Saturday
The wrestling season really gets underway tomorrow with several tournaments.
Wenatchee and Moses Lake will be in Kennewick. Eastmont, Ephrata and another contingent from Moses Lake will be at the Davis Invite. The smaller schools from the region will gather at Omak tomorrow morning at 10 o'clock.
Eastern men fall to Southern Utah
In men's college basketball last night…
Eastern Washington came up short to Southern Utah in Big Sky play 89-76. Steele Venters (cool name) led the Eagles with 29-points.
On the men's college basketball schedule tomorrow, Eastern plays at Omah at 10 in the morning. 3rd-ranked Gonzaga hosts 16th-ranked Alabama at Climate Pledge Arena in Seattle at 5 o'clock on ESPN-2. Washington State will host 20th-ranked USC tomorrow at 3 on the Pac-12 Network.
Washington is scheduled to host No. 5 UCLA Sunday, but we'll see if that happens with COVID in the Husky program.
On the Les Schwab Women's College Basketball Scoreboard, Washington State beat San Francisco 72-58. Charlisse Leger-Walker led the way with 27-points.
Hailey Van Lith had 10-points and 4-steals in Louisville's 70-to-48 win over 12th-ranked Michigan. Southern Utah downed Eastern Washington 60-46.
The Gonzaga women will host Wyoming tonight at 6. Washington State plays at UC Davis Saturday at 4 on ESPN-plus. 10th-ranked Louisville hosts Belmont Sunday morning at 9 on the ACC Network.
Kraken home to host Oilers tonight, Wild hit the road
The Seattle Kraken are back home at Climate Pledge Arena in NHL action tonight…
They'll host the Edmonton Oilers at 7 o'clock on ROOT Sports Northwest.
The Wenatchee Wild are in Merritt to face the Centennials in BCHL play tonight at 7. They'll continue north of the border in Penticton tomorrow night at 6.
Seahawks host 49ers and may have Peterson in lineup
The Seahawks host the San Francisco 49ers at Lumen Field Sunday at 1:25…
Seattle signed veteran running back Adrian Peterson this week, trying to bolster its backfield. Peterson will be wearing No. 21 and hopes to add a boost both at practice and in games…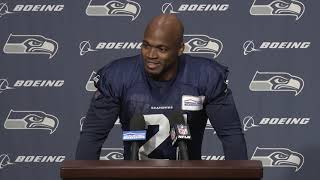 The Seahawks hope Peterson can be a positive injection into a struggling offense. Russell Wilson remains positive and refuses to focus on the negatives that have plagued his performance…
Seattle's game kicks off at 1:25 on CBS.