The omicron variant of COVID is forcing local schools to change how they're approaching attendance restrictions for sports. Only 999 tickets will be available for tonight's basketball games featuring Eastmont at Wenatchee High School. In an email from W-H-S athletic director Jim Beeson last night, details were spelled out on how fans could attend tonight's games.
According to Beeson, 500-tickets are reserved for students at each high school with wrist bands available at the school's athletic office. The remaining 499-tickets are available online for sale at www.ticketspicket.com.
Any tickets left from the student allotment not picked up by the end of school today were turned over for online purchase. Fans will be required to wear masks and practice social distancing.
If you'd like to watch the games on TV instead, NCWLIFE will broadcast both right here. Eric and Grant will have the girls game LIVE on our Facebook page at 5:45. The boys game will follow at 7:30 LIVE on both TV and Facebook. The girls game will be televised tonight at 10:30.
Here's what else we have on the basketball courts tonight across North Central Washington. Cashmere hosts Chelan at 5:45 while Cascade visits Quincy. At 6 it's Omak at Tonasket and Ephrata hosting East Valley.
For the smaller schools with games starting at 6, it's Oroville at Brewster; Cascade Christian hosts Soap Lake; Wilson Creek visits Bridgeport; Entiat takes on Pateros; and Liberty Bell plays at Okanogan.
The boys schedule looks similar with different starting times. Chelan's at Cashmere while Quincy hosts Cascade at 7:15. Tonasket takes on Omak at 7:30 while Ephrata hosts East Valley of Yakima.
At 7:30, it's Oroville at Brewster; Soap Lake visits Cascade Christian; Bridgeport hosts Wilson Creek; Pateros travels to Entiat; and Okanogan takes on Liberty Bell.
Huskies downed by Arizona men
On the Les Schwab Men's College Basketball Scoreboard last night…
Washington played its 3rd game since Thanksgiving due to COVID postponements and fell at Arizona 95-79. Terrell Brown, Jr. led the way for the Huskies with 28-points against his former team. Emmitt Matthews, Jr. had 16-points for Washington, as they dropped their first Pac-12 game of the season.
Wild hit the road for games on the BC Coast
After a 6-and-3 December, the Wenatchee Wild hit the road this week for a couple games in BCHL play…
Wenatchee will play at Coquitlam Friday at 7 and Chilliwack Saturday at 7. Interim radio "voice" of the Wild, Sean Zears, says this is a great opportunity for Wenatchee to get two games out of division…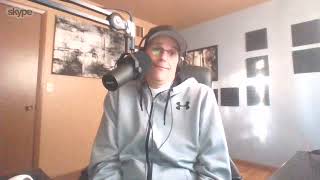 The BCHL added four games to Wenatchee's home schedule, which Zears says is always a good thing…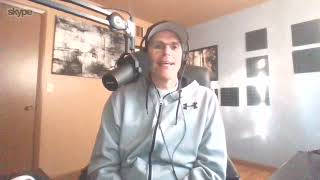 You can watch Dan's entire interview with Sean Zears on Wake Up Wenatchee Valley on our website at www.NCWLIFE.com.
Wagner questionable for Sunday, Carroll confident Wilson will stay
The big question coming out of Sunday's win over Detroit for the Seahawks was the health of Bobby Wagner. The veteran linebacker went down with an apparent knee injury in the first defensive play of the game. Coach Pete Carroll says an MRI gave them a little more information on Wagner's injury…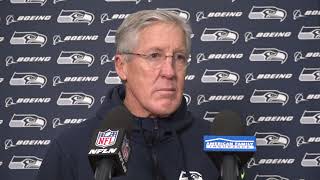 The other question is about the future of Russell Wilson. Rumors are once again swirling that one of the NFL's best quarterbacks may have played his last game in a Seattle uniform at home. Coach Carroll says he is confident Wilson will be back again next season…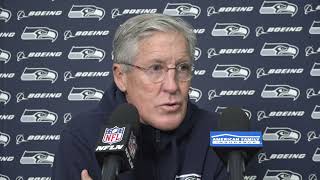 Seattle will finish the season Sunday in Arizona against the Cardinals. Coach Carroll took a unique approach to the final two games for Seattle, treating last week as their "NFC Championship" and this week as their "Super Bowl"…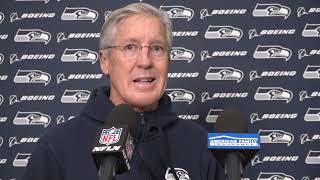 Seattle and Arizona kick off at 1:25 Sunday at State Farm Stadium in Glendale, Arizona on FOX.