The 113th Boeing Apple Cup pitting Washington and Washington State is today at Husky Stadium in Seattle…
The Cougars have a chance at the Pac-12 North Championship if they snap a 7-game losing streak to Washington and Oregon State upsets Oregon tomorrow.
Interim Cougar coach Jake Dickert says they understand the importance of this game, but are trying not to make it too big…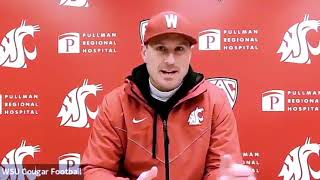 Kickoff is set for 5 o'clock on FS1.
Kraken score big win over Hurricanes
The Seattle Kraken earned a big win Wednesday night over Carolina in NHL play…
Seattle edged the Hurricanes 2-to-1 to win its second-straight. Carolina got on the board first late in the first period before the Kraken tied it in the second…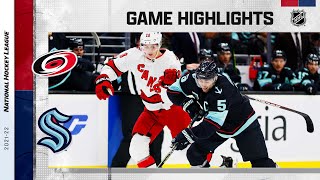 The Kraken will try to make it three wins in a row tonight at Tampa Bay at 4 o'clock on ROOT Sports Northwest. They'll play at Florida tomorrow at 3, also on ROOT Sports.
Wild look for first home win of BCHL season vs Silverbacks
The Wenatchee Wild will try to earn their first home win of the BCHL season this weekend…
Wenatchee welcomes the Salmon Arm Silverbacks to the Town Toyota Center tonight for the first of three games at home. Wenatchee comes into the tilt with a 3-6-3-and-1 record while the Silverbacks are 12-3-and-1 and in second place in the Interior Division.
The puck will drop tonight at 7 and again tomorrow and Sunday at 6. You can hear the action locally on 560 KPQ, or see it for yourself in-person by getting tickets at www.wenatcheewildhockey.com/ticketing/.
By the way, you can help out the NCW Community Toy Drive presented by Les Schwab tonight and tomorrow by either dropping off a toy or buying a 50-50 raffle ticket or a chuck-a-puck as you enter the game.
WSU women improve to 4-and-0 with win over Miami
On the Les Schwab Women's College Basketball Scoreboard…
Washington State outscored Miami 25-to-8 in a third quarter run and beat the Hurricanes 62-47 at the Pink Flamingo Championships in the Bahamas. Johanna Teder led the way with 15-points while Charlisse Leger-Walker scored 13 for the Cougs…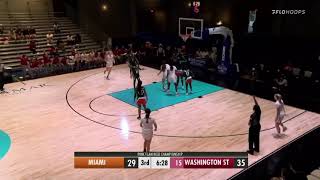 Coach Kamie Ethridge says it was nice to get the win and have a good third quarter…
In other action Thursday, VCU held Washington to 21-second-half points including just 9 in the fourth quarter to beat the Huskies 60-to-47. Nancy Mulkey led the way for Washington with 13-points.
Coming up today, the Gonzaga women are at the Rainbow Wahine Showdown in Manoa, Hawaii. They'll face Utah today at 2.
Washington continues play in the Bahamas against North Carolina tomorrow morning at 9. The Gonzaga women will face Eastern Illinois at 2. Washington State takes on No. 5 NC State tomorrow at 3 o'clock.
The Gonzaga women wrap up their trip to Hawaii against the host team Sunday at 4:30 on ESPN-plus.
No. 1 Gonzaga faces No. 5 Duke tonight
The big tilt in men's college basketball happens tonight in Las Vegas at the Empire Classic…
No. 1 Gonzaga takes on No. 5 Duke at 7:30 on ESPN. The Bulldogs are 6-and-oh and coming off a 20-point win over second-ranked UCLA Tuesday. The Blue Devils are 6-and-oh in what is being termed coach Mike Krzyzewski's "Farewell Tour". The 74-year old announced before this season that this would be his last coaching Duke, where he's been since 1980.
Also on the men's schedule this weekend, Washington State hosts Eastern Washington in Pullman tomorrow afternoon at 4:30 on the Pac-12 Network. Washington hosts Winthrop tomorrow night at 7, also on the Pac-12 Network.
Seahawks face must-win challenge at Washington
The Seahawks took a day off yesterday to let players and coaches spend the holiday with family, but they'll be back at practice today preparing to face Washington on Monday Night Football…
There's been plenty of national speculation about the future of Pete Carroll and Russell Wilson in Seattle after a dreadful 3-and-7 start to the season. Coach Carroll was asked about his relationship with Wilson during his press conference on Wednesday…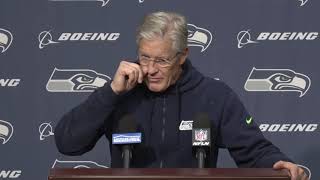 Seattle and Washington kickoff Monday at 5:15 on ESPN.