Join host Dominick Bonny as he takes a look at the anti-parasite drug Ivermectin and speaks with a local woman whose father was prescribed it as a remedy for COVID-19. Then we'll hear from Dr. Mark Johnson with Confluence Health about why taking Ivermectin to treat COVID is not recommended and could be harmful to your health.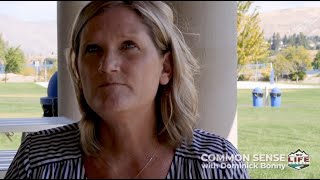 Common Sense with Dominick Bonny – Ivermectin Transcript and Sources
PART ONE
Hello and welcome to Common Sense. I'm Dominick Bonny and today we're going to take a look at ivermectin, which is an anti-parasite drug that can treat infections caused by roundworms, threadworms, and other parasites. We'll learn more about the details about ivermectin and why it's not currently recommended as a treatment for COVID-19 from Dr. Mark Johnson, an infectious disease expert with Confluence Health later in the episode. But first I want to get right to my interview with a local woman named Leanne Lafferty, whose father got COVID in June. He was prescribed Ivermectin by a local healthcare provider and things did not go well. Let's jump right in. 
Clip 1
Offering to prescribe someone a medication without a first-person consultation. I want to stop here and make a note of this because it's something I'll ask Dr. Johnson about later. I also want to note that I tried asking Karl Lambert about it first. I reached out multiple times through phone calls and I even sent him a direct message on LinkedIn, which seems to be where he likes to talk frequently about topics like the benefits of Ivermectin and call facemasks on kids quote "child abuse." He did not respond to my repeated attempts to contact him. But let's get back to the interview.
Clip 2
Here's a copy of the text message she referenced. I will also make sure they are provided in the source notes for this episode on NCWLIFE dot com. Just go to the full episodes tab and scroll down until you see Common Sense, this is episode 45. I will also include the text of the complaint Leanne filed to the Washington State Nursing Care Quality Assurance Commission, which is what I am reading quotes from to ask some of my questions. The other thing to note is that she says when her father was admitted to the hospital they took him off all the medications Lambert had prescribed. That's important. Let's get back to the interview.
 Clip 3
I want to thank Leanne for her bravery in standing up and speaking out about what is clearly a painful experience for her. I know it's not easy to put your neck out there and speak out against misinformation, and I know it might strain her relationship with her family even more. But still, I think she's doing the right thing because like she said he talks about treating other patients. I do believe that her experience is so powerful and personal it might just make people think outside their echo chambers and consider for a second the question: What if it was my dad? What would I do if I was in her shoes? Stay tuned after the break for an interview about this with infectious disease expert Dr. Mark Johnson with Confluence Health.
PART TWO
Welcome back! Let's jump right into my interview with Dr. Mark Johnson, an infectious disease expert with Confluence Health.
Interview with Dr. Johnson
"Healthcare systems don't make money on vaccines, and they certainly don't make money on the COVID vaccine," he said. "When people say, 'You're making money off the vaccine' that's just inherently false." He goes on to say: "From my perspective I want people to get vaccinated because I don't want them to get really sick with COVID and end up in the hospital and die or be on oxygen for months or end up with a lung transplant down the road because the virus has ravaged their lungs – but on another more practical level because I don't want them to end up in the hospital for weeks and weeks and weeks with a huge hospital bill," end quote.
Here's a true expert on infectious diseases and a representative of Confluence Health saying they don't make a bunch of money off vaccines or the distribution of them. But what I don't know is how much money Karl Lambert and others like him are making from prescribing a drug that feed stores have pulled off their shelves. I know this because I went to Coastal Farm and Ranch in East Wenatchee and saw it for myself. But because Mr. Lambert would not respond to my multiple attempts to reach him and get his side of the story I cannot understand his motivations or his actions. I also cannot get a handle on how his business model works, but it seems to me that when you have roughly 71 million Americans irrationally opposed to taking a safe, free, and effective vaccine that is FDA approved and proven to work – that's an opportunity to make a mint by giving those folks exactly what they want, which, at the moment, is livestock dewormer. What the next irrational fad will be is anyone's guess.
What I do know is that Ms. Lafferty's decision to go public with this information is not only brave and selfless but I believe that she is giving voice to thousands if not millions of Americans who are in similar situations. And they're not in that position because of a complete cognitive deficiency in their friends or family members. Rather we all have to endure this seemingly never-ending slog to get through the pandemic in large part because of a calculated disinformation campaign orchestrated by bad actors, many of whom are ironically vaccinated themselves but make money off of making common-sense public health measures into political and cultural battlegrounds. It's times like these, times of crisis, when snake oil salesmen, grifters, and charlatans flourish. And it's at the expense of the rest of us.
That's all for this episode of Common Sense. Join me next week to learn about Robert, a local man born and raised in the Wenatchee Valley whose addiction started in his early teens after being over-prescribed opioid pain medications after a tractor accident. Now he's 28, homeless, and an intravenous drug user who says he's overdosed 38 times. The last three times it was Narcan that helped save his life. I'm Dominick Bonny and we'll learn about that next time on Common Sense.
SOURCES
IMAGES