As the Seahawks have a shortened week to recoup from Tuesday's loss to the Rams and as they prepare for Chicago, Pete Carroll finds himself in unfamiliar territory…
His team will finish under .500 for only the second time in his 12-seasons in Seattle. Much speculation has been made in the national media about his future leading the Seahawks. He was asked Wednesday if he's worried about losing his job…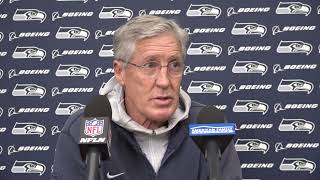 The perplexing thing for Carroll and his staff is that they basically have the same team that went 12-and-4 last season and won the division. He says it basically comes down to 3rd down…
Seattle hosts the 4-and-10 Chicago Bears Sunday at Lumen Field at 1:05 on FOX.
Eagles and Cougars falter in men's college basketball
On the Les Schwab Men's College Basketball Scoreboard…
25th-ranked Texas Tech manhandled Eastern Washington 78-46. In fact, the Red Raiders scored more in the first half (50) than the Eagles scored in the entire game. Eastern was led by the 10-points of Rylan Bergersen.
An unfortunate theme is emerging in the early season for the Washington State men's basketball team. And that's giving up leads in the second half. Such was the case again last night as WSU squandered a 5-point halftime lead and fell to Boise State 58-52.
Coach Kyle Smith says it's tough to win when his team went 5-and-a-half minutes to start the second half without scoring…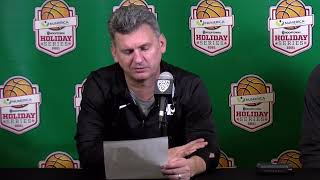 Tyrell Roberts came off the bench to lead WSU with 16-points while Adrej Jakimovski had 11-points and 12-rebounds.
Washington State has lost five of its last eight games after a 5-and-oh start. Smith was asked how he gets his team out of its rut…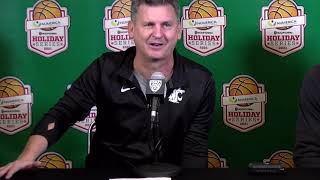 The Cougars are off until next Wednesday when they'll host Washington.
On the women's schedule today, Eastern Washington hosts Portland State in Big Sky play at 6 o'clock on ESPN-plus.
Prep basketball scoreboard
There were very few games on the prep schedule yesterday, but let's check the scoreboard…
First, at the GESA Winter Shootout, Wenatchee got 12-points each from Camden Loidhamer and Trent Goodell to down Prosser 39-35.
The Entiat boys had a rough go of it against the Coyotes as Kittitas topped the Tigers 60-to-20.
Lynnea and Iliana Moran combined for 52-points to lead Hanford over Prosser 73-46 on the girl's side of the GESA Winter Shootout.
In other girls play, Kittitas eased past Entiat 50-to-22.
There are a couple games on tap today in Quincy where the Jackrabbits will host the Royal Knights in a girl-boy doubleheader. The ladies tip at 1:30 with the boys to follow at 3.