Advanced metering allows for the timely collection of energy use data that will help customers make energy-saving decisions.
Chelan County PUD is researching advanced metering and talking with customers about the new digital meters. The District's goal is to upgrade residential meters and provide self-service "dashboard" capability to manage accounts, just as you do with many of your other online accounts.
Advanced Metering Basics
Advanced, two-way digital metering, also known as Automated Metering Infrastructure (AMI) or sometimes called "smart meters," is atechnology that is widely used across the US. More than 500 utilities across the nation are already using this technology, with 50 million advanced meters installed in 43 percent of American households (Institute for Electric Innovation, 2014).
AMI is a building block for a more efficient electric system, often called the smart grid. It will provide many benefits to customers and greatly improve operational efficiencies. The PUD says the meters will:
Empower customers to make energy-saving choices
Improve customer service and outage response
Reduce environmental impact
How Does Advanced Metering Work?
Advanced, two-way digital meters will connect homes and businesses to the PUD and will collect customer meter reads automatically. This means that:
Advanced digital meters record customer energy-use information throughout the day, just as today's meters do.
Customer energy-use information is sent several times a day to us, using radio frequency (RF) waves. This is similar to the wireless communications used by cell phones and WiFi. The meters will transmit data for a maximum of 90 seconds per day.
Once it's within our secure firewall, the information will be matched up with customer accounts for billing and other customer service activities.
Fast Facts
Similar to existing electric meter, the new digital meter is installed on the outside of your home or business.
Actual data transmission using RF occurs in milliseconds or less than one minute per day.
Many appliances and mobile devices, such as microwaves and cell phones, transmit far higher RF levels and often are much closer to you than a digital meter.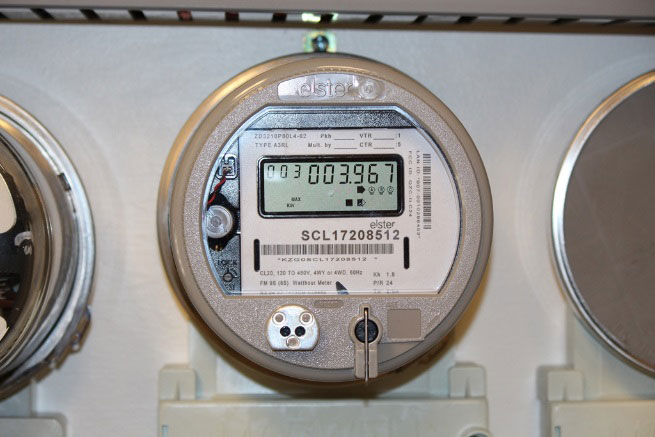 ---
Events
---
Comparing Advanced Metering To Current Meters
Transitioning to advanced meters is a bit like upgrading to a smart phone from a land line phone—both technologies work, but the smart phone provides a better user experience and allows customers to stay even more connected to what matters to them.
Current meters
Are manually read by meter readers every month, creating opportunities for billing errors and estimations.
Require meter readers to drive more than 200,000 miles annually to record customer data. This creates vehicle fuel costs and produces pollution from vehicle trips.
Cannot alert the utility to power outages (Chelan PUD currently relies on customer phone calls to know when the power is out).
Do not have built-in safety features.
Advanced meters
Uses secure wireless communications to send energy-use information directly to us.
Enables customers to view their energy-use information daily. This can empower you to make energy- and money- saving choices.
Alerts us to power outages, enabling a faster outage response.
Creates more reliable customer billing. Advanced Metering reduces several manual processes, helping to ensure meters are read correctly and customers are billed accurately every time.
Provides added safety features like sensors that can detect increasing temperatures.